Eyoyo-EM15L-potable monitor
Features
【15.6'' 4K IPS Display】: 15.6 inch portable size, 3840 X 2160 4K UHD high resolution, IPS 178°wide viewing angle, 1000:1 high contrast, presenting you an awesome brilliant scene.
【Portable USB-C Monitor】:Copy your laptop or smartphone to a big screen only by one USB-C cable. Plug and play. Note:Before you buy this product, please contact your phone supplier to confirm whether your phone supports this function. And please use the packed PD adapter if the power is unstable.
【4K Gaming Monitor】: This monitor is equiped with a HDMI input, working perfectly with Xbox One, PS3, PS4, Switch, Raspberry Pi, etc. Besides, this monitor can connect with DSLR camera.
【Mini DP Input】: This monitor is equiped with a Mini DP input, working perfectly with Apple Mac, lenovo X1, Surface Pro and other devices with Mini DP interface.
【Second Screen for Laptop】: Second monitor for your laptop or PC, improving work efficiency. Slim design is convenient for business, traveling and gaming.

UHD 4K 3840x2160 Portable Monitor - 15.6 inch Screen
  

UHD 4K IPS Screen

Eyoyo 4K USB C display provides amazing 3840x2160 high resolution visual effects. Not only it displays more delicate and clear images but it has excellent color reproduction ability.

High Quality Dual Speakers

Dual speakers of Eyoyo 15.6 inch portable monitor provide you with a booming and clear sound, bringing you a home theater-like sound experience. In addition, you can add your own speakers to get a better sound via the 3.5mm audio input.

Screen Protector

We specially presented a screen protector for this Eyoyo second screen for laptop / PC. Makes your monitor fully protective from the scratches and provides better protection for your screen.
  

USB-C & Standard HDMI Input

Eyoyo 15.6 inch 4K portable monitor is equipped with USB-C and HDMI two input portsp to meet your different needs.

IPS Panel

Eyoyo 15.6 portable display weighs 1.8lb and is 12mm in thickness. Lightweight, slim body and the leather cover make it portable for you to carry it anywhere.

VESA Mountable

There are 4 VESA 75mm holes on the back of Eyoyo USB C Monitor, compatible with most VESA mounts. You can mount it on the desk or on the wall.

Stand by a Pen

The round hole in the lower left corner makes this Eyoyo 4K Type C monitor more convenient to use. Just by using a pen to make it stand.
Business Screen Sharing

You can use this Eyoyo 4K monitor as your second display. Switch them between duplicate mode and extended mode to expand your workspace.

Working When Traveling

By the data transmission function of USB C 3.1, you can use this Eyoyo travel monitor to copy your phone or laptop. And you can work via the in desktop mode of your phone.

HD Gaming Monitor

If you are a game lover, Eyoyo 4K monitor will not let you down. You can play high-resolution games on this portable monitor with your PS3, PS4, XBOX ONE, Wii or Nintendo Switch etc.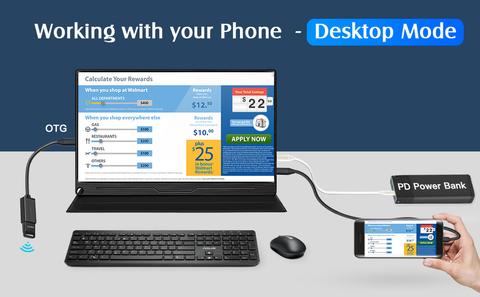 If you have questions about whether your device can be used with this monitor or if you have questions about how to use it, please ask before buying.

Specifications
Panel Type: IPS Display
Screen: 15.6 inch
Resolution: 3840 X 2160(16:9)
Brightness: 300cd/m2
Viewing angle: 178°
Contrast: 1000:1
Refresh Rate: 60Hz
Build-in Dual Loudspeakers: Yes
Color: Black
Package Contents

1 x 15.6" 4K IPS Monitor ... 1 x Screen cover ... 1 x Screen protector ... 1 x USB-C cable ... 1 x HDMI cable ... 1 x PD power adapter ... 1 x Power cable ... 1 x Manual
Feature 1
Enter a short text here about the feature of your product.
Feature 2
Enter a short text here about the feature of your product.
Feature 3
Enter a short text here about the feature of your product.