👍【PHONE BACK CLIP DESIGN, INCREASE WORKING EFFICIENCY】-It is thinner and lightweight(only 90g/3.17oz), the barcode scanner can be easily installed on mobile phones with a length of 5.4-6.5 inches. If you do not have the budget to buy a PDA(Android Barcode Scanner), but you have a software similar to Scoutly or ScoutIQ, then connect your app via Bluetooth, this scanner will realize the function of PDA at an affordable price.
👍【3 CONNECTION WAY, ADAPTS TO ANY WORKFLOW】-The Bluetooth barcode scanner is equipped with Bluetooth, 2.4G Wireless, and USB Wired connection. Its groundbreaking design easily converts between corded and cordless operation, Clip-on phone and not clip on phone. As your needs change for easily connected with your laptop, PC, MAC, iPhone, tablet.
👍【1D 2D BARCODE SCANNING, ACCURATE & STABLE】-The Eyoyo 2d barcode scanner, any type of code that comes their way-printed or electronic, some torn or damaged-can be read swiftly. it can capture the UPC, ISBN/ISSN, QR, PDF417, Data Matrix, etc with a fast scanning speed. The extraordinary low-power design makes you can work all day without worry about the battery.
👍【3 SCANNING BUTTON, 2 SCANNING MODE】- Design with 3 scanning buttons lets the ultra-versatile Eyoyo barcode scanner can fit anyone and any working environment.Key trigger mode + Auto-sensing mode +Continous mode. When you change the mode to auto-sensing mode or continuous mode, the scanner will automatically read the barcode once the barcode is detected without pressing the button.
👍【MORE CONFIGURATION, WIDELY APPLICATION】-The QR code scanner support instant upload and storage mode, turn on/off the beep, add custom prefix/suffix digits, hide front and back character, add keyboard keys (CR, LF, TAB, CR&LF, etc.) to the scanning operation and so on. it can be widely used in retail, warehouse and distribution, transportation and logistics, Amazon bookseller.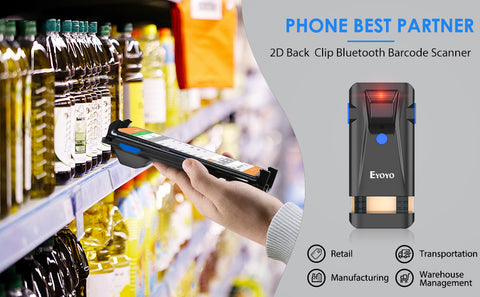 Why Eyoyo?
Whatever you scanning needs, Eyoyo is there.Our mission is simple: to make the best, easy-to-use, affordable and durable bluetooth barcode scanner.The phone companion barcode scanner will help companies increase productivity while cutting time and costs.Empower every worker at the edge of your business.
Feature 1
Enter a short text here about the feature of your product.
Feature 2
Enter a short text here about the feature of your product.
Feature 3
Enter a short text here about the feature of your product.
Worth the money!
Bought for my school library. It didnt automatically work with my barcodes, but the companys tech support soon had a solution.
useless without the correct holder
Holder was the wrong size, useless without the correct holder. Also it was late to be received.
The stand that comes with the scanner does not fit the scanner.
The scanner itself works OK but the stand that comes with must be for a different model of scanner. The scanner will not fit in the stand. It's not even close.
Don't throw the manual. It has suffix codes to modify it function based on what you really want i...
Sometimes it take time to read a code. Sometimes it's instantly at start. It's because you need to
Learn it reading range. Once you get the catch on it. It work like charm.