Feartures
【10 point Touch Screen Portable Monitor】: Utilized the capacitive touch technology which employs up to 10 simultaneous touch points -- easier, faster and more accurate. Multi-touch is tested to work with Windows, Android, Lunix. But the touch fuction can't work with macOS system and some, because Apple locked the touch feature in macOS. If you want it be connected to Raspberry pi, please consult us before your purchase.
【15.6" Portable HDMI Monitor】: 15.6" big screen, IPS panel and 1920x1080 high resolution, presenting you an awesome brilliant scene. Note: The first USB-C port is only for power supply while the second one is for touch and data transmission.
【Second Monitor for Laptop PC】: Support connection with laptops by only one USB-C to USB-C cable, such as Macbook pro, Surface pro, working simultaneously, doubling your visual workspace, improving your work efficiency. Copy your phone to a the 13.3 inch screen. Before you buy this product, please contact your phone supplier to confirm whether your phone supports this function.
【HDMI Gaming Monitor】: Equipped with standard HDMI input, plug & play, compatible with Xbox One, Xbox 360, PS3, PS4, WiiU Switch, Raspberry Pi. When connecting to game consoles, please use USB 3.0 interface 5V for power supply. Note: the USB interface of the cable should be connected to your device to implement the touch funtion.
【Portable Monitor with Case】: CNC Metal Housing and comes with a stylish case. Great choice for portability of frequent travelers and business man. Beside, there are VESA 75x75mm mounting holes in the back.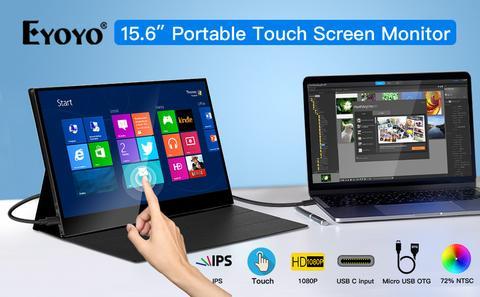 There are three cables in our package, the way to make the screen work
1. only one usb-c to usb-c cable: your device must has Thunderbol 3 USB-C or USB-C 3.1 with PD protocol output.
2. hdmi cable + usb-c to usb cable: the hdmi cable is only for signal, while the usb-c to usb cable is for touch and power. Therefore, the USB interface of the usb-c to usb cable MUST be connected to your device to implement the touch function.
3. The touch function isn't compatible with Mac book iOS system, because apple locks touch function protocol.
Specification - with Touch function
Panel Type: IPS LCD Touchscreen Display
Screen Size: 15.6 inch
Brightness: 350 cd/m2
Aspect Ratio: 16:9
Resolution: 1920x1080@60Hz (Full HD)
Color Depth: 16.7M colors,72%
Viewing Angle(U/D/L/R): 85/85/85/85 CR≥10
Refresh Rate: 60Hz
Rating Voltage: 5V---2.0A
VESA Mountable: 75x75mm
With 10 point capacitive touch technology
With stylish case protect monitor
Built-in dual loudspeakers
Equipped with a standard HDMI input
CNC Metal Housing

Larger View from Your Phone

One cable simply connection, streaming picture of phone on a larger screen. Open the computer mode if your phone have, makes your phone become a small travel computer. Enjoy a big view for watching, reading or edit document.

As a Second Screen

Extra monitor makes working more efficient,Don't have to switch screen frequently. Eliminated plenty of ineffective time when working.

You also can browse the web when playing games or watch movie. Bring more happy and comfortable feelings for your working and entertainment.

With Micro USB OTG Port

Package Included a OTG cable for usb wired or wireless keyboard and mouse.relaxing and convenience use such as home, office and public place.Suitable for office worker and game lovers.

1080P IPS Display

Ultra HD 1920x1080 high video resolution provides you top quality picture and excellent visual experience.

Tempered Glass Screen

Highly durable and scratch resistant/chip resistant, this strong tempered glass Screen will provide your monitor the best protection against drops, bumps, scratches and normal wear and tear.

Dual Speakers

The dual speakers efficiency provides a louder sound, meeting your indoor/outdoor playback requirement.You can enjoy the room-filling sound from this powerful speakers.

Feature 1
Enter a short text here about the feature of your product.
Feature 2
Enter a short text here about the feature of your product.
Feature 3
Enter a short text here about the feature of your product.
Great Monitor
This is the best monitor we've found (tried several) that balances resolution, size/thin profile, and the ability to mount it. The integrated VESA mounts make it so easy to install