Specification:
Screen Size: 4.3 inch LCD screen(480x720)
Pixel Size: 720P 60hz
Zoom Rate: 2X to 12X infinite amplifying
Battery Capacity: 1500mAh lithium battery(4hours working time)
Color Mode: 26 modes
Auto Focus:automatic/manual
Charging Powern: DC5V1A
Dimension: 4.8x3x1.54inch(123x76x39mm)
Port: TV output/USB Type-C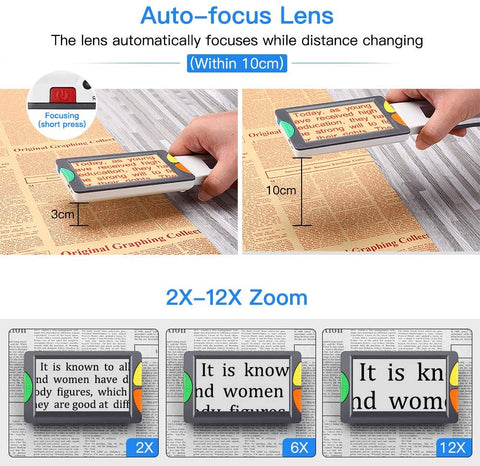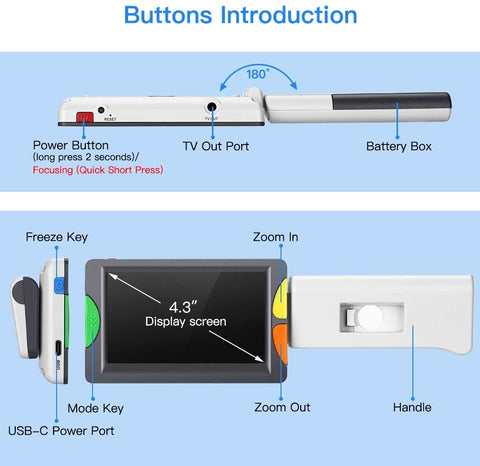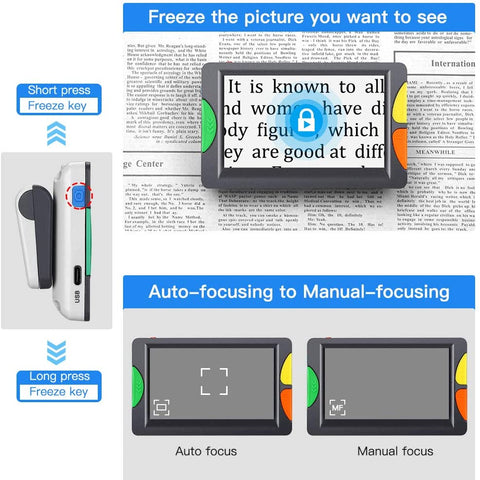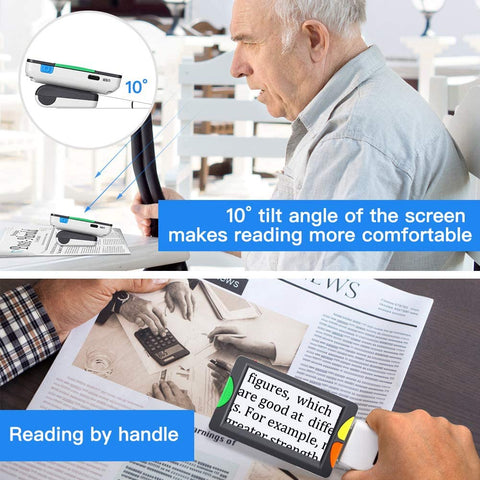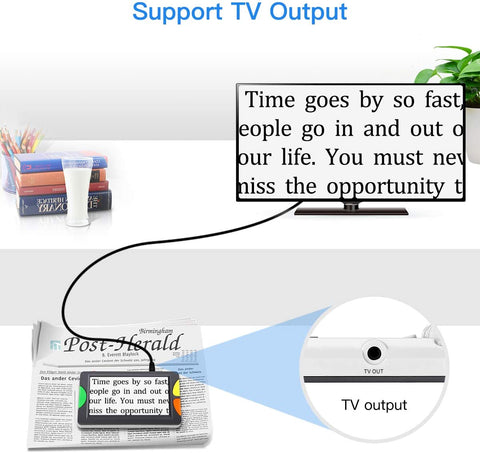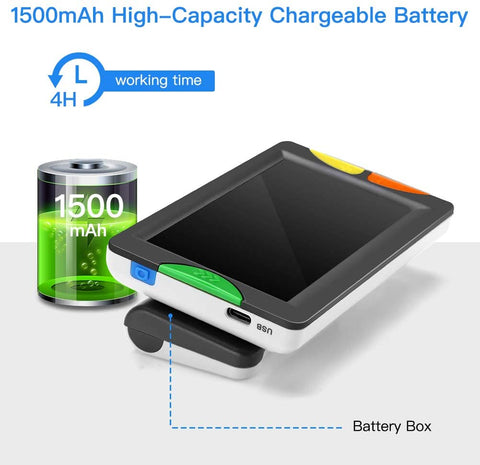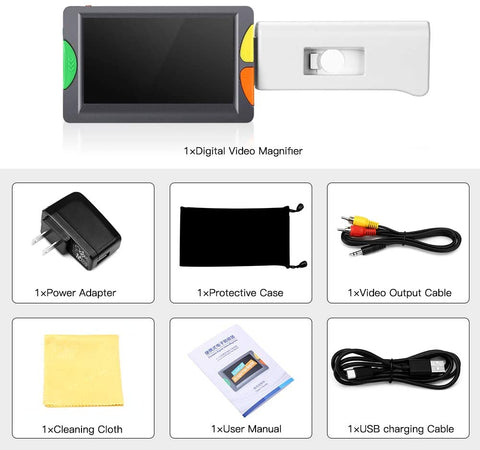 Package:
1x Digital Video Magnifier
1x USB Charging Cable
1x Lithium Battery
1x Protective Case
1x Video Output Cable
1x Power Adapter
1x User Manual
1x Cleaning Cloth

Q: I found none of the buttons work, even i reset it.
A: After reset it, you need click"zoon in ", "zoon out" and power button at the same time, then it can working again.
Feature 1
Enter a short text here about the feature of your product.
Feature 2
Enter a short text here about the feature of your product.
Feature 3
Enter a short text here about the feature of your product.
Amazing product
My mom has macular degeneration and this magnifier has been a lifesaver. This is the only product that she can actually see to read with. Great product and fast reply if you have any questions. Would definitely recommend.
My mother can read again
My mother became legally blind due to a very rapid progression of macular degeneration, encouraged by glaucoma. She is in her 80's, does not use the latest technology (yet has been able to use these readers with ease,) and was living in a very rural, isolated area. She is also a very proud, independent woman, clearly distressed at her predicament. Eyoyo digital readers allowed her to continue keeping track of her own finances, helped us with the sale of her home, and assisted us with her move to a place with services like transportation and nearby medical and grocery facilities. She read and continues to read most of the paperwork using this device, and loved them so much she now has 3! They are a lifeline for her! Highly recommend!
This is so helpful!
I am a visually impaired person so I got one of these to help myself so that I could read smaller print. Oh my gosh, what a difference it has made. I no longer have to wait to have someone read labels or other paper things. It has a lot of color choices and magnification choices. Thanks for making this product at an affordable price for people such as myself.
Low vision sollution
This is a great value, works well reasonably priced.
Different backlights make it easy to customize to your eyesight
Bought a smaller version of this for my mother in law and she loved it but wanted a larger one so bought this one and she absolutely loves it! Just wish there was one bigger like 8.5 by 11. She has cataracts and low vision and can read with this device.